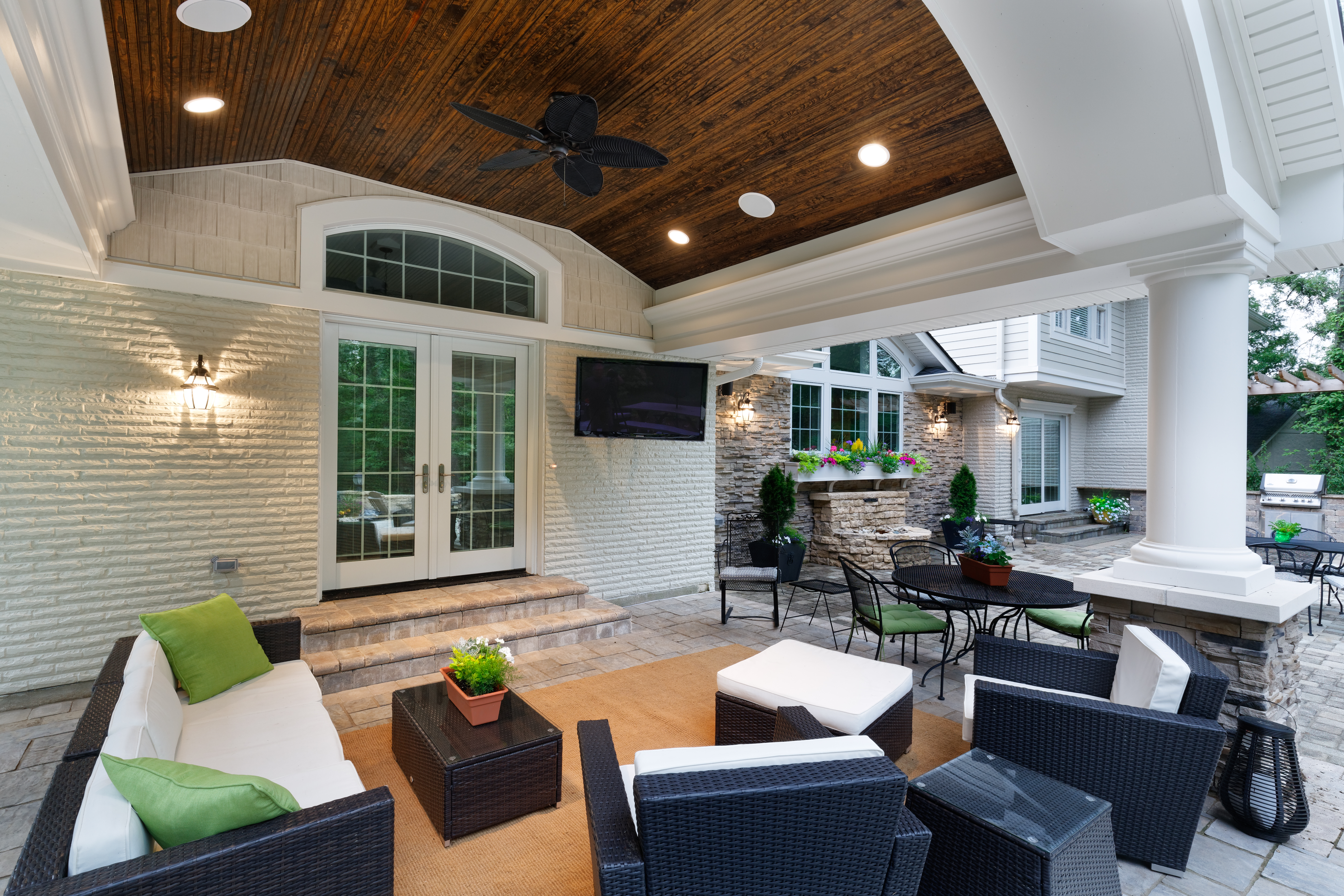 Wilcox Architecture
Experience + Quality + Personal Attention 
Located in Cincinnati, Ohio, Wilcox Architecture combines thoughtful, high-quality residential design with close personal attention from the architect to guide clients from the site and building assessment through the design and construction processes. Tom Wilcox has been a registered architect for 25+ years.
Tom designed a family room addition for our English Tudor style house. His design is a "seamless addition" off the living room. When people come to our home they are surprised to learn that the addition is not part of the original 1930's construction. We were impressed with Tom's diligent oversight and attention to detail throughout the construction process. Due to Tom's expertise and vision as an architect, we now have the addition that we wanted and so much more. See photos ›
We asked Tom to design our constantly wet backyard into our dream outdoor living room. He exceeded our expectations. Every small detail we gave him he incorporated into a spectacular design. But that was not enough. Tom visited our construction nearly every day to make sure that the builders did not cut corners and interpreted his design to his exact high standards. Our yard was transformed and I highly recommend Tom to anyone who has a dream they want to turn into reality. See photos ›
Working with Tom to build a house in Mariemont was a dream. When we first looked at the design, we right away knew THIS WAS IT!  He had taken so much about what we liked and disliked in a house from our meeting with him and put it into our house . . . he even seemed to pick up on things we didn't even realize we wanted! He took a vested interest in each step of the building process to be sure things were going according to design. Many people still comment on how well our "new" house blends right into this "older" community. See photos ›
In renovating our 125-year-old house, Tom provided great design ideas that maintained historical features but allowed modern conveniences. He designed a main staircase to replace one that had been removed when the house had been converted to a two-family years ago. He also used the space well to give us a master suite. And he redesigned the kitchen and basement stairs to give us functionality. During the project, he was on-site checking specifications to keep the project running smoothly.
I recommend Tom Wilcox and would use his services again.
Our family lives in a large Victorian home in a Historic Neighborhood, built in 1882. We had a challenge on our hands when we sought to enhance our family's living and social space on a fairly small lot which we ambitiously wanted to populate with a new swimming pool, landscaping, three-car garage, mudroom, family room, and bathhouse/bar. How could we do all of this with neighbor buy-in and Historic Commission sign-off for our Building Permit? Answer—Tom Wilcox, Architect. Tom was referred to us by friends and he immediately showed care for the project, professional know-how, and personal service which resulted in a smooth transition from concept, to final drawings, to smooth sailing through the permitting process. His fees were extremely reasonable and the value of his services show every time we attend a neighborhood party where neighbors say, "you guys did a great job with your home . . . it looks like the addition was part of the original house!" See photos ›