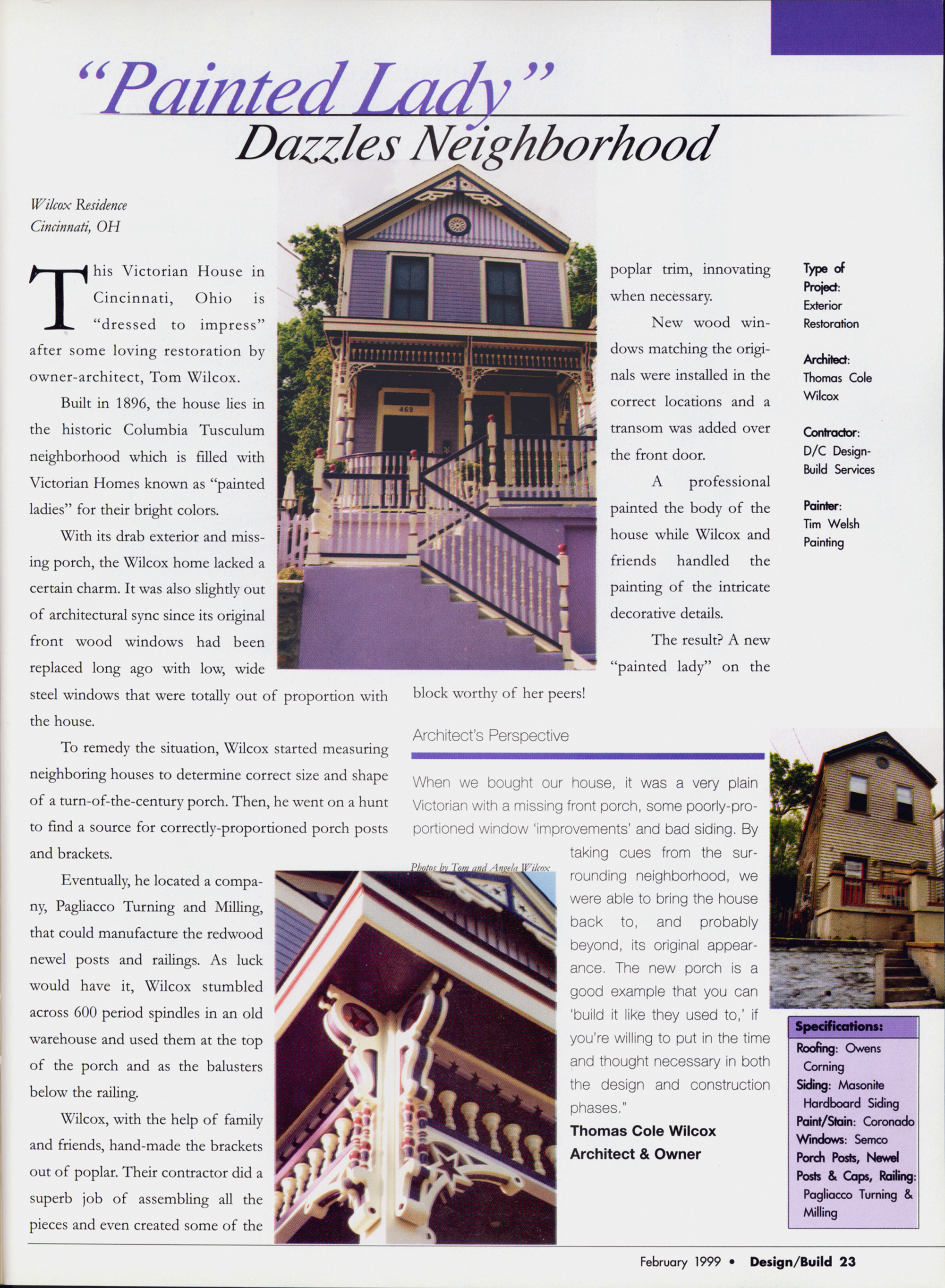 "Painted Lady" Dazzles Neighborhood
This Victorian House in Cincinnati, Ohio is "dressed to impress" after some loving restoration by owner-architect, Tom Wilcox.
Built in 1896, the house lies in the historic Columbia Tusculum neighborhood which is filled with Victorian Homes known as "painted ladies" for their bright colors.
With its drab exterior and missing porch, the Wilcox home lacked a certain charm. It was also slightly out of architectural sync since its original front wood windows had been replaced long ago with low, wide steel windows that were totally out of proportion with the house.
To remedy the situation, Wilcox started measuring neighboring houses to determine the correct size and shape of a turn-of-the-century porch. Then, he went on a hunt to find a source for correctly-proportioned porch posts and brackets.
Eventually, he located a company, Pagliacco Turning and Milling, that could manufacture the redwood newel posts and railings. As luck would have it, Wilcox stumbled across 600 period spindles in an old warehouse and used them at the top of the porch and as balusters below the railing.
Wilcox, with the help of family and friends, hand-made the brackets out of poplar. Their contractor did a superb job of assembling all the pieces and even created some of the poplar trim, innovating when necessary.
New wood windows matching the originals were installed in the correct locations and a transom was added over the front door.
A professional painted the body of the house while Wilcox and friends handled the painting of the intricate decorative details.
The result? A new "painted lady" on the block worthy of her peers!
Architect′s Perspective
"When we bought our house, it was a very plain Victorian with a missing front porch, some poorly-proportioned window 'improvements' and bad siding. By taking cues from the surrounding neighborhood, we were able to bring the house back to, and probably beyond, its original appearance. The new porch is a good example that you can 'built it like they used to' if you're willing to put in the time and thought necessary in both the design and construction phases."
Thomas Cole Wilcox
Architect & Owner
Type of Project: Exterior Restoration
Architect: Thomas Cole Wilcox
Contractor: David Costa General Contracting
Painter: Tim Welsh Painting
Specifications
Roofing: Owens Corning
Siding: Masonite Hardboard Siding
Paint: Coronado
Windows: Semco
Porch Posts, Newel Posts & Caps, Railing: Pagliacco Turning & Milling
Design/Build magazine, February 1999